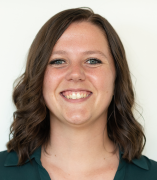 Erin O'Callaghan
PhD Student
Graduate Research Assistant
Criminology, Law, and Justice
Pronouns: Sher/Her/Hers
About
Erin O'Callaghan, M.A., is a Doctoral Candidate in the Department of Criminology, Law, and Justice at the University of Illinois at Chicago. She received her Master's in CLJ at UIC, and her Bachelor's in Psychology at the University of Cincinnati. Her research concerns substance-involved sexual assault, sexual assault disclosure and social reactions, workplace sexual violence, anti-carceral feminism, mixed-methodology, and recovery in survivors post-assault. Her dissertation examines the experiences of substance-involved sexual assault survivors and its impacts on survivor's general substance use behaviors and their sex lives from a survivor-centered approach. She has also collaborated on a project developing new social reactions and institutional betrayal measures of workplace responses to sexual assault survivors. Along with two other colleagues, she was recently awarded a grant from the Center for Institutional Courage to conduct a qualitative study of workplace sexual assault disclosure. Erin's community-based work focuses on labor organizing in academia in addition to community organizing around prevention of sexual harassment and assault in the workplace with a particular focus on low-wage workers in Chicago.
Awards
$4000 Grant from Center for Institutional Courage
$900 Grants-in-Aid from the Society for the Psychological Study of Social Issues
Selected Publications
O'Callaghan, E. & Douglas, H. (in press). #MeToo Online Disclosures: A Survivor-Informed Approach to Open Science Practice and Ethical Use of Social Media Data. Psychology of Women Quarterly Special Issue: Feminist Psychology and Open Science.
O'Callaghan, E., Shepp, V., Kirkner, A., & Lorenz, K. (in press). Sexual Harassment in the Academy: Harnessing the Growing Labor Movement in Higher Education to Address Sexual Misconduct against Graduate Workers. Violence Against Women.
O'Callaghan, E. & Ullman, S.E. (2021). Are All Substance-Involved Sexual Assaults Alike? A Comparison of Victim Alcohol Use, Drug Use, and Combined Substance Use in Sexual Assaults. Women & Criminal Justice. Advanced online publication. doi: 10.1080/08974454.2021.1914284.
Education
B.S., University of Cincinnati