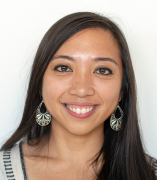 Hialy Gutierrez
PhD Student
Criminology, Law, and Justice
About
Hialy Gutierrez is a third-year PhD student in the Department of Criminology, Law and Justice and Pipeline to an Inclusive Faculty (PIF) fellow. Her scholarly interests include: abolitionist and liberatory education; solidarity and cooperative economics; narrative and metaphor in the law; sociology of deviance; biopolitics; critical consciousness and transformative praxis. She works to interrogate and expand upon constructs of violence as a capitalist (versus interpersonal) phenomena, and seeks to accordingly reimagine and build healing/life-affirming systems of accountability and mutuality rooted in community formation, transformation, self-determination, and care.
Hialy holds a BS in Engineering from Stanford University and a Master of Public Health degree with a focus on population and family health in crisis/complex settings from Columbia University. However, she counts UIC's Criminology Department and Chicago's grassroots political education workshops as the most nurturing and transformative learning spaces she's ever had.
Hialy is also the Founder of Justice Cream, an abolitionist solidarity economy project that co-creates ice cream flavors and political education programming with grassroots community organizations to build economic power and critical consciousness in pursuit of collective liberation.
Education
BS, Stanford University
MPH, Columbia University