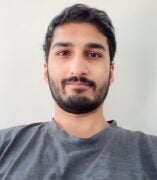 Hannan Latif
PhD Student
Criminology, Law, and Justice
Pronouns: He/Him/His
Contact
Building & Room:
4061 BSB
Email:
Related Sites:
About
Research interests: Intersection of gender and religion in crime, LGBTQIA+ victimization
Current Research Work:
Priming an Immigrant Threat: Variation in Local Media Coverage, 2003-2019: This project uses a novel dataset of television broadcasts from every U.S. media market between 2003 and 2019 to assess the geographic patterning of local news coverage of immigration and crime over this period. By examining the relationship between local news coverage and varied policy responses to immigration enforcement, this study will elucidate the relationship between local television news coverage and important contexts of immigrant reception. Check it out at https://cuppa.uic.edu/apre-lab/apre-ongoing-research/#immigration
Exploring Pakistan's Social Fabric - The Relationship between Social Identities/Practices and Views on Hot Button Issues: Prior research indicates that certain socioeconomic characteristics and religious beliefs/practices have a significant effect on sociopolitical attitudes in a range of settings. A conservative-liberal continuum exists among people based on their socioeconomic characteristics and religious beliefs/practices, with certain groups demonstrating relatively consistent conservative, neutral, or liberal attitudes toward several issues. However, most of the prior research has been on Western countries, where religion does not play as dominant a role in the social fabric. This study examines competing viewpoints on 5 main controversial topic areas and how views on these differ by socioeconomic characteristics and religious beliefs/practices within a Pakistani sample.
Trans Victimization, Coping and Interaction with Criminal Justice System Experiences in a Pakistani Sample: This research project aims to explore the multifaceted experiences of transgender individuals in Pakistan who have encountered victimization and their subsequent interactions with the criminal justice system. Transgender communities in Pakistan have long endured systemic discrimination, violence, and marginalization. This study seeks to shed light on the coping strategies employed by transgender individuals when facing victimization and their perceptions of the criminal justice system's responsiveness to their needs and concerns. Utilizing semi-structured interviews, the lived experiences of transgender individuals will be the focus, particularly their encounters with victimization, their coping mechanisms, and their interactions with the criminal justice system.
Selected Publications
Latif, Hannan et al. "Neurological Injuries And Their Medicolegal Aspects As A Result Of Criminal And Non-Criminal Acts In A Pakistani Sample". Forensic Science International: Reports, vol 2, 2020. Elsevier BV, https://doi.org/10.1016/j.fsir.2020.100143
Latif, H., 2020. The need for novel biometric-based systems such as tongue identification. Egyptian Journal of Forensic Sciences, 10(1). Available at: https://doi.org/10.1186/s41935-020-00213-3
Latif, H., 2020. From Beneath The Rubble. [online] Live Now Together. Available at:
https://livenowtogether .com/from-beneath-the-rubble/
Notable Honors
2018, Global Initiatives Fellowship Award: Merit based award worth $20,000, George Washington University
Education
Education: BS. Biology from Lahore University of Management Sciences, Pakistan
MSc. Forensic Medical Sciences from Queen Mary University of London, UK.