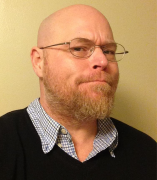 Chris Miner
PhD Student
Criminology, Law, and Justice
About
Chris is a formerly-incarcerated, abolitionist, PhD student in Criminology, Law, and Justice at the University of Illinois at Chicago. He is also Program Director and founder of a 501(c)3 non profit organization, known as A Way In, which assists people with felony convictions access higher education.
While at the University of Illinois at Urbana-Champaign, Chris also founded a registered student organization, TIME Scholars, which worked to destigmatize formerly incarcerated people. In the past, Chris has worked as a peer mentor and group facilitator for numerous other non-profit organizations, such as First Followers (in Champaign) and the Hinda Institute (Chicago), where he used his lived, professional, and academic experience to assist people returning from prison acquire employment, housing, and education opportunities.
Chris has spoken on reentry at academic conferences (NEIU), as well as in print and on radio (WILL and NPR radio). Lastly, Chris has also appeared on the podcast "To Stir with Love" speaking about criminal justice reform, policing, and restorative justice.
Additional past experience also includes working with Parole Illinois, Illinois Legal Aid Online, and currently Chris serves on the Advisory Committee for the Education Justice Project's "Prison to Gown" Pathway Program.
Since moving to Chicago from Champaign, Chris has started attending rallies and protests centered around police misconduct. Now that he is at UIC, Chris hopes to start a registered student organization that is focused on destigmatizing and inviting more people with felony convictions to campus, once things return to "normalcy."
Service to Community
- Program Director, A Way In - 501(c)3 Non-profit Organization
- Founder, TIME Scholars - Registered Student Organization (U of I Urbana-Champaign)
- Peer Mentor & Group Facilitator, First Followers & Hinda Institute Chicago
Education
- AA, Political Science (Parkland College)
- BA, Urban and Regional Planning (UIUC)
- MSW (UIUC).