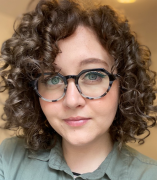 Veronica Shepp
PhD Student
ABD
Criminology, Law, and Justice
Pronouns: Sher/Her/Hers
Contact
Building & Room:
4050C BSB
Email:
CV Download:
About
Veronica Shepp, M.A., is a Doctoral Candidate in the Department of Criminology,
Law, and Justice at the University of Illinois at Chicago and is currently working
on her dissertation titled, "Seeking Support Under the State: Sex Workers' Experiences Navigating Gender-Based Violence Services and Informal Support." Broadly, Veronica's research examines the intersection of gender-based violence, informal and formal help-seeking and precarious and/or criminalized labor, and she seeks to promote anti-carceral responses to survivors. Veronica is also a bargaining committee member and labor organizer for UIC's graduate worker union GEO Local 6297. Follow Veronica on Twitter: @veronicaannes
Selected Publications
Shepp, V., O'Callaghan, E., Kirkner, A., Lorenz, K., & Ullman, S.E., (2019). Sexual assault survivors who exchange sex: Identity, stigma, and informal responses from support providers. Affilia: Journal of Women and Social Work, 35(1), 105-128.
Shepp, V., O'Callaghan, E., & Ullman, S., (2019) Interactions with offenders post-assault and their impacts on recovery: A qualitative study of sexual assault survivors and support providers. Journal of Aggression, Maltreatment, and Trauma, 29(6): 725-747.
O'Callaghan, E., Shepp, V., Kirkner, A., Lorenz, K., (in press) Sexual harassment in the academy: Harnessing the growing labor movement in higher education to address sexual misconduct against graduate workers. Violence Against Women.
Ibarra, P. & Shepp, V., (in press) "I do wonder if the world will ever be the same after this." Students journaling the 2020 lockdown. Socioscapes.
Notable Honors
2021, Institutional Courage Research Grant $4,000, n/a
2021, UIC Criminology, Law, and Justice Outstanding Teaching Assistant Award, UIC
2020, Provost's Graduate Internship Award, UIC