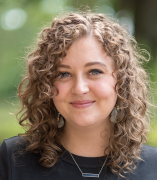 Veronica Shepp
PhD Student
Criminology, Law, and Justice
Contact
Building & Room:
4050C BSB
Email:
About
Veronica Shepp's, M.A. background includes advocacy and case management work with survivors of domestic violence and sexual assault and supervision of a comprehensive sexual assault prevention program with college students in California. Her research interests include sexual assault, intimate partner violence, sexual violence prevention, sex work, and alternatives to carceral social services. Veronica's work also centers activism, specifically focusing on graduate student labor organizing, anti-carceral response to survivors of gender-based violence, and sex worker rights.
Selected Publications
Shepp, V., O'Callaghan, E., Ullman, S., (in press) Interactions with Offenders Post-Assault and Their Impacts on Recovery: A Qualitative Study of Sexual Assault Survivors and Support Providers. Journal of Aggression, Maltreatment, and Trauma. 
Shepp, V., O'Callaghan, E., Kirkner, A., Lorenz, K., Ullman, S., (2019) Sexual Assault Survivors Who Exchange Sex: Identity, Stigma, and Informal Responses from Support Providers. Affilia, 1-24. Advanced online publication doi: 10.1080/00224499.2018.1506731.