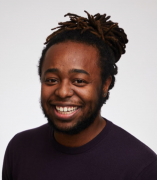 Ash Stephens
PhD Student
Criminology, Law, and Justice
Contact
Building & Room:
4021 BSB
Email:
About
Ash Stephens (he/him and they/them) is a Criminology, Law and Justice PhD candidate, and Black Studies and Gender and Women's Studies concentrator at the University of Illinois at Chicago. His research interests include critical race theory, gender-based violence, transgender studies, surveillance studies, critical prison studies, and prison industrial complex abolition and activism.
The working title of his forthcoming dissertation project is "Concealed Threats: Gender-Policing and Surveillance of Trans, Gender Nonconforming, and Nonbinary People." The project explores the ways in which transgender, gender nonconforming, and nonbinary people in particular are surveilled and policed by various state actors.
He is also a board member with the Transformative Justice Law Project and a 2020-2021 grantee of the Davis-Putter Scholarship Fund.
Education
M.A., Criminology, Law and Justice, University of Illinois at Chicago
B.S., Criminal Justice, Georgia State University