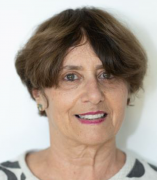 Edna Erez, PhD
CLJ Faculty
Criminology, Law, and Justice
Contact
Building & Room:
4010A BSB
Address:
1007 W Harrison St.
Office Phone:
Email:
CV Download:
Selected Publications
Books
Erez, E and Laster K (eds) (2000) Domestic Violence: Global Perspectives. London: AB Publications.
Erez, E., Kilchling, M. and Wemmers J.(eds).((2011) Therapeutic Jurisprudence and Victim. Participation in Justice: International Perspectives Carolina Academic Press.
Articles
Edna Erez (1980) "Planning of Crime and the Criminal Career: Official and Hidden Offenses," Journal of Criminal Law and Criminology, 71(l): 73-76.
Edna Erez, Peter R. Ibarra and Norman A. Lurie (2004) "Electronic Monitoring of Domestic . Violence Cases: A Study of Two Bilateral Programs" Federal Probation, June: 15-20.
Paul Cassell and Edna Erez (2011), "Victim Impact Statements and Ancillary Harm: The American Perspective". Canadian Law Review, 15(2): 150-204
Education
PhD University of Pennsylvania
LLB