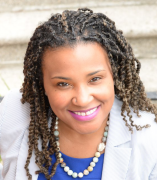 Alana Gunn
CLJ Faculty
Criminology, Law, and Justice
Contact
Building & Room:
4044 BSB
Email:
About
Assistant Professor
Alana J. Gunn has extensive experience working with individuals who are incarcerated and those under correctional community-based supervision, as well as with the agencies charged with supporting their reentry process. Her program of research focuses on the ways in which multi-level experiences of stigmatization shape the health and well-being of women with intersecting histories of criminal legal involvement and substance use disorders. She is currently engaged in a number of projects, including a research study examining the ways in which familial and services systems shape identity change processes for women reintegrating post-imprisonment as well as a study exploring the ethics-specific implications of interviewing formerly incarcerated women with histories of structural and individual-level trauma.  She is also a Faculty Partner with the Prisoner Reentry Institute (PRI) at John Jay's School of Criminal Justice where she is examining data on the reentry experiences of men in PRI's Prison-to-College Program who are engaged in the City University of New York (CUNY) educational system post-incarceration.
Selected Publications
Jemal, A., Gunn, A., & Inyang, C. (2019). Transforming responses: Exploring the treatment of
substance-using African American women. Journal of ethnicity in substance abuse, 1-29.
Gunn, A., & Miranda Samuels, G. (2018). Promoting Recovery Identities Among Mothers with
Histories of Addiction: Strategies of Family Engagement. Family process.
Blakey, J. M., & Gunn, A. (2018). The "ickiness factor": Stigma as a barrier to exiting prostitution.
Journal of Offender Rehabilitation, 57(8), 538-561.
Gunn, A. J., Sacks, T. K., & Jemal, A. (2018). "That's not me anymore": Resistance strategies for
managing intersectional stigmas for women with substance use and incarceration
histories. Qualitative Social Work, 17 (4), 494-508
Hardesty, M., & Gunn, A. J. (2017). Survival sex and trafficked women: The politics of re-presenting
and speaking about others in anti-oppressive qualitative research. Qualitative Social
Work, 1473325017746481.
Gunn, A., & Guarino, H. (2016). "Not human, dead already": Perceptions and experiences of
drug-related stigma among opioid-using young adults from the former Soviet Union
living in the US. International Journal of Drug Policy, 38, 63-72.
Bond, K. T., & Gunn, A. J. (2016). Perceived Advantages and Disadvantages of Using Pre-
Exposure Prophylaxis (PrEP) among Sexually Active Black Women: An Exploratory Study.
Journal of Black Sexuality and Relationships, 3(1), 1-24.
Gunn, A. J., & Canada, K. E. (2015). Intra-group stigma: Examining peer relationships
among women in recovery for addictions. Drugs: Education, Prevention and Policy, 22(3),
281-292.
Education
BA Vassar College
AM, MPP, PhD in Social Service Administration, University of Chicago
Behavioral Science Training Postdoctoral Fellowship – New York University Meyers College of Nursing