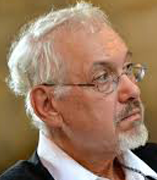 John Hagedorn, PhD
Professor Emeritus
Criminology, Law, and Justice
Selected Publications
A World of Gangs: Armed Young Men and Gangsta Culture. Minneapolis, University
of Minnesota Press. 2008
Forsaking Our Children: Bureaucracy and Reform in the Child Welfare System,
Chicago, Lakeview Press, 1995
People And Folks: Gangs, Crime and the Underclass in a Rustbelt City, with Perry
Macon. Chicago, Lakeview Press, 1988; 1998.
Education
PhD, University of Wisconsin - Milwaukee
Selected Presentations
Gangs and Culture. Keynote Address to the Midwest Gang Conference. Madison, WI May 2009.
"The history of gangs in Chicago." Lecture to the Chicago Freedom School. Chicago. 2007.
"Race and Class in Chicago." Address at the School of the Chicago Art Institute.
Chicago. 1997.