Scholarships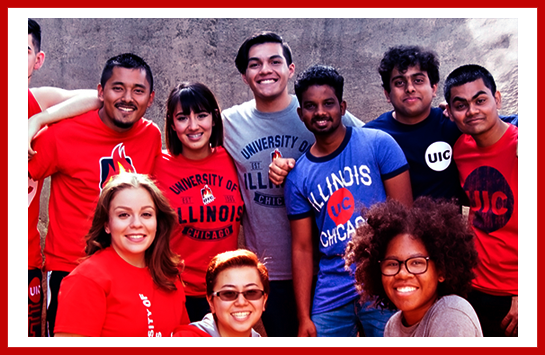 How do I find money for my studies?
The Office of Scholarships assists current UIC undergraduate and professional school students in searching and applying for campus scholarship and external opportunities. We do not award scholarships, and our services are available to current UIC undergraduates and professional students only.
We help students present themselves clearly and effectively for awards that best suit their needs. Our office can offer guidance on communication about academic achievement, co-curricular involvement, life experiences and financial need. Students are welcome at any point in their degree program, and are encouraged to plan ahead to prepare the strongest possible scholarship applications.
UIC Scholarships
1200 West Harrison St, Suite 1800, Student Services Building (SSB), Illinois 60607
Phone: (312) 413-1066
Email: scholarshiphelp@uic.edu
SnAP: UIC's internal scholarship information system. If you are a UIC student, you can log in using your UIC netid and password and SnAP will show you a list of scholarships that you qualify, based on a number of criteria, including major, financial aid status, etc.
https://snap.uic.edu/
Avery Brundage Scholarship: Good students, athletics a part of their growing up, not necessarily a career.
https://secure.uaps.uillinois.edu/brundage/default.asp
Deadline: Late January
Scholarship Association for UIC: Approximately 40 different awards with varying eligibility criteria ranging from $500 to $5000 in value.
https://honors.uic.edu/scholarships
Deadline: Mid-February
Liberal Arts and Sciences: Eighteen separate scholarships ranging from $500 to $10,000 with varying eligibility criteria.
LAS Scholarships
Deadline: Early March
Martin Luther King, Jr.: Awards for under-represented minorities of $2000 for undergraduates and $5000 for graduates at UIC.
Scholarships for Continuing Undergraduates
Deadline: Early April
External Scholarships for Unrestricted Majors
Hispanic Scholarship Fund: $1000 to $5000 award for students pursuing first undergraduate or graduate degree.
Scholarships, Hispanic College Fund
Deadline: February 18
J.W. Saxe Prize: Twelve $2000 awards in support of public service projects or no-pay/low-pay internships in public service for undergraduate or graduate students.
http://jwsaxefund.org/
Deadline: March 15
McKelvie Scholarship: Several $1000-$2000 awards for undergraduate and graduate students interested in careers in government.
https://polisci.unl.edu/scholarships-financial-aid#mckelvie_scholarships_2
Congressional Hispanic Caucus: $2500 award for undergraduates and $5000 for graduate students who show excellent leadership potential.
https://chci.org/programs/chci-united-health-foundation-scholar-intern-program/scholarship/
The Dirk Derrick Car & Truck Accident Injury Scholarship: A $1000 award for any current or soon-to-be undergraduate student in the United States who has had their life altered due to an injury from a car or truck accident, be it their own injury, that of a loved one, or an influential individual. https://www.derricklawfirm.com/library/scholarship.cfm
1200 West Harrison St, Suite 1800,
Student Services Building (SSB),
Chicago,
Illinois